Roman Nose
December 2018 saw the release of the debut album proper by Roman Nose (on lp, co-released with Humane Pyramid Records). We are now shipping copies of this lp.
It was recorded in Autumn 2014 and 2016 at Shakeeb Abu Hamdan's studio in Leeds and has artwork by Bridget Hayden.
It features harmonium, vocals, tulum, concertina, sheng, tape players and electronics by Jon Marshall; flute, vocals, hulusi and sheng by Sarah Mcwatt; drums, waterphone and percussion by Charlie Collins; and double bass etc by Otto Willberg.

The only other Roman Nose release was the following solo tape, released over five years ago on winebox press….
Black (Silk) Death on Silk (Silk) Road
c30 on winebox press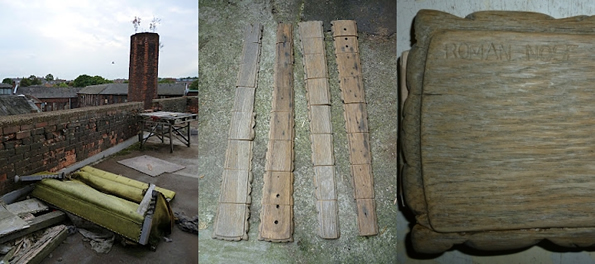 'Roman Nose is the solo guise of J Marshall of Hunter Gracchus et al. Using harmonium, vocals, reeds etc he assembles a bunch of inspired ethno-drone miniatures that take in the cosmological drones of Herman Nitsch, the glottal euphoria of Ghedalia Tazartes and the kind of dense improvisatory ethno-flux of the Gracchus proper. A great companion piece to Winebox's recent Blue Yodel set.' Volcanic Tongue